Villa Layout
A screen discreetly separates the outside world from No. 39 Galle Fort's entrance veranda. Beyond the veranda, folding doors lead into No. 39 Galle Fort's living and indoor dining areas, which give a feeling of space and grandeur, featuring high vaulted ceilings. Further ahead and out the wooden doors, a furnished garden-side veranda is waiting to be discovered, with an alfresco dining table nearby. A double bedroom leads off to the right of the entrance and above it is a mezzanine TV lounge. Also on the first floor is the master bedroom with its own terrazzo galley, below which lie the kitchen and third bedroom.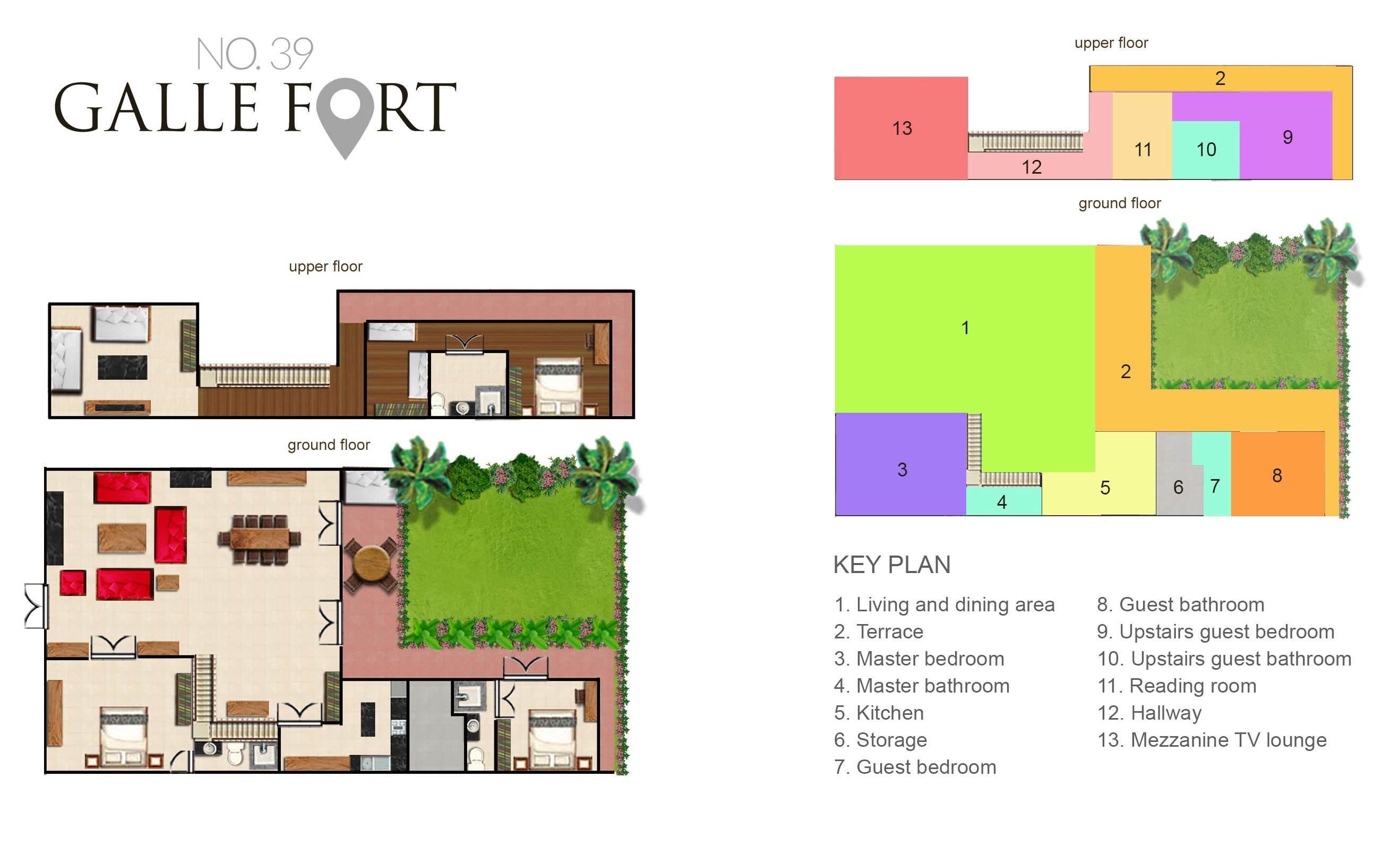 Download in high resolution
Living Areas
Indoor living
No. 39 Galle Fort's expansive fan-cooled open-plan living areas lie beneath a soaring timber ceiling. Custom-made furniture – a striking complement of antiques and reproductions – harks back to the Dutch-colonial era, and injects the interiors with a heady historical atmosphere.
The homely lounge is furnished with a trio of daybeds lavishly capped by burgundy-hued cushions, antique rattan lounge chairs and a glass coffee table. This is a warm and welcoming social space. Folding windows open onto a front veranda, allowing you to keep one eye on the activity of Lighthouse Street as you relax in comfort.
A striking archway demarcates the indoor dining area, which is furnished with an impressive three-metre teak table for ten, overhung by copper drop lamps that cast a subtle light and create a nostalgic setting for home-cooked meals. A set of saloon doors nearby lead towards a fully equipped kitchen, which also opens up to the garden.
Up on the first floor is a tranquil reading room (an anteroom to the master room) with twin daybeds and a mezzanine lounge furnished with two more cushioned daybeds, a 50-inch flat-screen TV with satellite channels.
Outdoor living
Beyond the dining area are twin doors leading onto a breezy L-shaped garden veranda, edged by white pillars. Relax on the deep daybed here, curling up with that book you've been longing to start for months as our staff pour you tea and the fort's family of exotic birds put on a heady musical performance.
Also within the walled gardens is a six-seater alfresco dining table which makes an idyllic spot for enjoying long lazy breakfasts or sipping cocktails at sunset.
Bedrooms
No. 39 Galle Fort's three bedrooms are spread across two floors, with the master room upstairs. Each bed is adorned with Egyptian cotton sheets and luxurious padded bedcovers, and all bedrooms offer both air conditioning and ceiling fans and feature modern ensuite bathrooms fitted with showers.
Master Bedroom
Being the only bedroom on the first floor of the house, No. 39 Galle Fort's master room is exceptionally private.  Breezily opening through twin sets of folding doors onto a terrazzo-floored galley, the room overlooks the vine-draped red-tiled rooftops of the fort.  Swathed in soft netting, the grand four-poster king-size bed sits atop polished mahogany floorboards and beneath an impressive pitched timber ceiling.
The master room is accessed via a small fan-cooled reading lounge furnished with rattan day beds.
Second Bedroom
This airy double bedroom opens onto the lush garden and a pillared veranda towards the back of the house.  Sitting atop polished floors is a king-size four-poster bed wrapped in soft netting, positioned so you can lie back and watch the squirrels and chattering birds in the garden.
Third Bedroom
Located just off the living room, this terrazzo-floored bedroom overlooks historic Lighthouse Street through wide folding windows.  A queen-size bed takes pride of place in the room, complemented by a matching antique wardrobe.